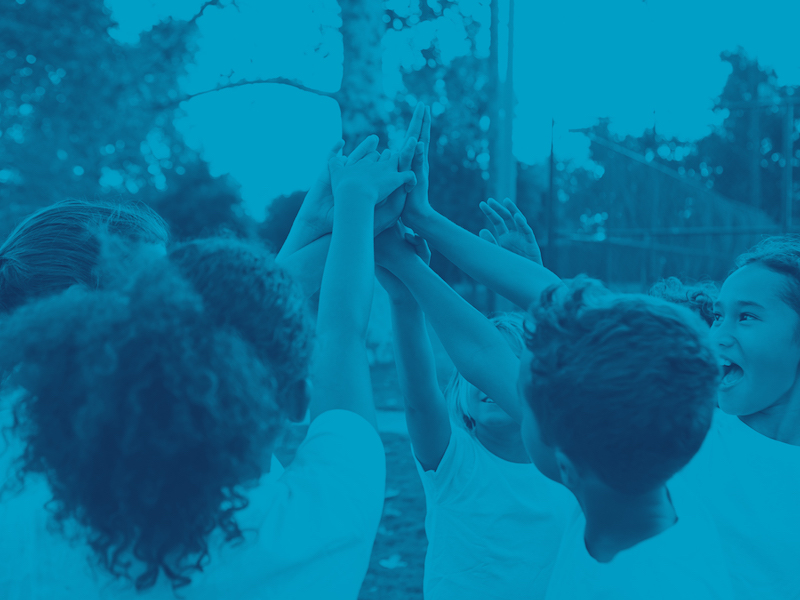 Transforming the Marketplace
2016 Progress Report
PHA set out with the goal of making the healthy choice the easy choice for American families. To do so, there must be a supply of healthy food options and ample demand for restaurants, hotels, grocery and convenience stores to maintain that supply. PHA tackles both sides of that equation.
On the supply side, we secure commitments from partners to make food healthier and more accessible and affordable. Our partners reformulate food products by reducing the amount of fat, sugar and salt. They revamp children's menus in restaurants and hotels and replace less-healthy food with healthier snacks in grocery and convenience store food displays.
On the demand side, our partners make healthier offerings more appealing by increasing best-in-class marketing of fruits, vegetables and nutritious meals. But we don't stop there. To ensure these healthy food options are available to all families, we also secure commitments from partners to increase the number of stores offering fresh fruits, vegetables and nutritious foods in neighborhoods where they are lacking. Because where you live shouldn't dictate what you can eat.
More than 8.5 million people now live in areas with new or renovated grocery stores, a direct result of our partner commitments. Our partners are helping families put food on the dinner table they can feel good about.
When they're away from home, families have more choices than ever for feeding their kids healthier meals. More than 27,000 restaurants now offer fruit or vegetables as the default side dish for kids' meals. If there's no time for a sit-down meal, families will still find healthier choices at quick-stop convenience stores. Our partners have 1,244 locations across the country, 73 percent of which are located in food-scarce neighborhoods.
FNV
What do Stephen and Ayesha Curry, Jessica Alba, Rob Gronkowski and Kristen Bell all have in common? They eat their fruits and veggies. Better yet, they're leading by example and inspiring America's youth to build a new relationship with their f&v's.
These are just a few of the Hollywood and sports icons who've joined FNV, a Madison Avenue-style marketing campaign that uses bold creative messages, a self-aware tone and celebrity endorsements to change teens' and Millennials' attitudes towards fruits and veggies and increase their desire for them.
Studies show that youth are more likely to choose foods their sports heroes and pop icons endorse, and our own research is backing that up. According to one survey, 7 out of 10 people reported eating more fruits and vegetables after seeing our campaign and more than 9 in 10 of them continued to do so six months later.
FNV was launched in two pilot markets in 2015 and continues to grow. Today, we have the support of more than 85 celebrities and are in 16 markets nationwide.
Through national out of home, radio, and digital advertising, including a full-page ad in Family Circle Magazine, 30-second spots across all iHeart Media radio stations and a billboard in Times Square, FNV is now reaching more than 125 million people.
FNV launched Wisconsin and North Carolina specific campaigns in 2017, bringing the fruit and veggie love deeper into communities through events and retail activations developed with partners.
We're also reaching Millennials through national events such as iHeart Media's Fiesta Latina and Calle Ocho in Miami and Def Jam's holiday party in New York, where we got a shout-out from rapper and actor, Common. Look for FNV in a town near you, and stay tuned for even more exciting developments next year!
Drink Up
One of the simplest things people can do to maintain good health is drink more water, more often. That's why this is the slogan for PHA's award-winning Drink Up campaign. Launched in 2013 by PHA's Honorary Chair and former First Lady Michelle Obama, Drink Up now boasts partners nationwide and its droplet logo can be found on billions of products, including reusable water bottles, outdoor taps, bottled water and packs, filters and delivery trucks. It even earned a spot on the Ellen DeGeneres show when Mrs. Obama appeared as a guest.
Last year, we expanded the campaign to include Spanish-language media and advertising focused in East Los Angeles, with the message that water can help busy Angelinos fuel their need to be unstoppable. The expansion into East LA is part of the American Beverage Association and the Alliance for a Healthier Generation's commitment to reduce consumption of caloric beverages by 20 percent by 2025. Working with partners such as the LA Dodgers, the LA Dodgers Foundation and LA Galaxy, as well as local and regional community groups, they'll drive home the message that drinking water is an easy step on the path to good health.
Convenience Stores
Perhaps one of the biggest transformations PHA has achieved through its partner commitments is at the local convenience store. Whereas "convenience" once signaled an easy microwavable meal or a bag of chips, today's convenience store offers a wide range of healthier choices, from fruit and yogurt to fresh salads and hard boiled eggs, as well as affordably priced meals made with fresher, healthier ingredients. Busy parents in need of a quick snack for themselves or their children will find plenty of options at PHA partner locations, including fresh fruit for the kids. With 73 percent of partner stores located in food deserts, families with limited neighborhood options for buying fresh groceries now have more access.
The shift to healthier options for customers has also paid off for our partners. With food service sales continuing to rise at convenience stores – now accounting for 21.7 percent of in-store sales – customers looking for healthier options on-the-go are also fueling the bottom line. Half of all convenience stores run by our partners have seen a bump in fresh fruit sales. Kwik Trip found its sales of private label Drink Up products rose 30 percent as a result of store growth and joining the campaign, which included prominently displaying Drink Up signage and flagging bottled water as a healthy beverage choice for neighborhood shoppers.
Since partnering with PHA in October 2016, Aloha is committed to delivering more nutritious options to meet the needs of our communities. We are building on our healthier food options in Island Mart stores, and will continue to make those choices more affordable while supporting healthier options through in-store marketing and promotions.
– Aloha Petroleum, LTD
Drink Up LA
In Spanish, there's an expression for saying things are crystal clear: más claro ni el agua. Literally, "it couldn't be clearer than water."
So when asked to adapt the Drink Up campaign to an East LA audience that was predominantly Latino, PHA and our vendors at Pólvora Advertising went straight to this concept. Their message needed to be crystal clear.
But the campaign also needed a clear link between water, health and the Latino lifestyle to convey the value of drinking water and to motivate Latinos to do so.
"We went back to our culture and looked at the key areas that really make us different," said Rudy Bozas, Pólvora's CEO. "Latinos are known for being very hard working people, but we're also very gregarious, engaged and passionate. As we evolved the concept, the more we talked it through, it only made sense for us to leverage all of these things through activities that related back to water consumption."
Pólvora came up with a variety of creative images, all focused upon activities central to the Latino lifestyle that were also linked to the need for hydration. There is the soccer player. The dancer. The runner. Drinking water is naturally associated with each of these. But then the team started digging deeper. Who buys the groceries for the family? Data show 80 percent of the time, it's the female head of household. "In the Hispanic household, it's the mom who's the CEO," said Bozas. "She does the shopping and organizes the bills and collaborates with the husband on making the family budget and major family decisions."
Research also showed 72 percent of parents in the East LA market were concerned their children were not drinking enough water. And moms are the primary caretakers of children.
It became obvious, said Bozas, that their target audience would be moms. So they focused on how to create an ad around Latina mothers.
"The Latina mom has evolved over the years," said Bozas. "She is not the stereotypical mom staying at home cooking. She's going back to school and into the workforce and still maintaining a household. She gets up early, makes the kids' lunches, takes them to school, goes to work, picks up the kids and comes home to make dinner. We wanted to make sure moms knew we understood them and who they were today. We wanted to show them in a positive light, but also convey how much activity is involved with being a Latina mom."
"Water fuels her," Bozas said. "She's unstoppable, and she helps her family be unstoppable," which ultimately became the overarching message of the campaign.
Surveys show that message is getting through.
Seventy-five percent of people aware of the campaign in East LA said they've increased their water consumption as a result. The campaign is working.
It couldn't be clearer than water.
Partner Spotlight Sodexo
Partner Spotlight Dannon
Partner Spotlight Hyatt
All Partners
Aloha Petroleum

Core-Mark

Darden

enmarket

ESSTAR

Hyatt Hotels

Kwik Trip

MARS Food US

McLane Company Inc.

Nutri Ventures

One Medical Group

Produce Marketing Association

Ricker Oil Company

Sesame Workshop / PMA

Sheetz

Sodexo

Subway

SUPERVALU

The California Endowment's FreshWorks Fund

The Dannon Company

The Fresh Grocer

The Mushroom Council

Trinity Health

Twice Daily

U-Gas

Vintners Inc.

Walgreens

Westin