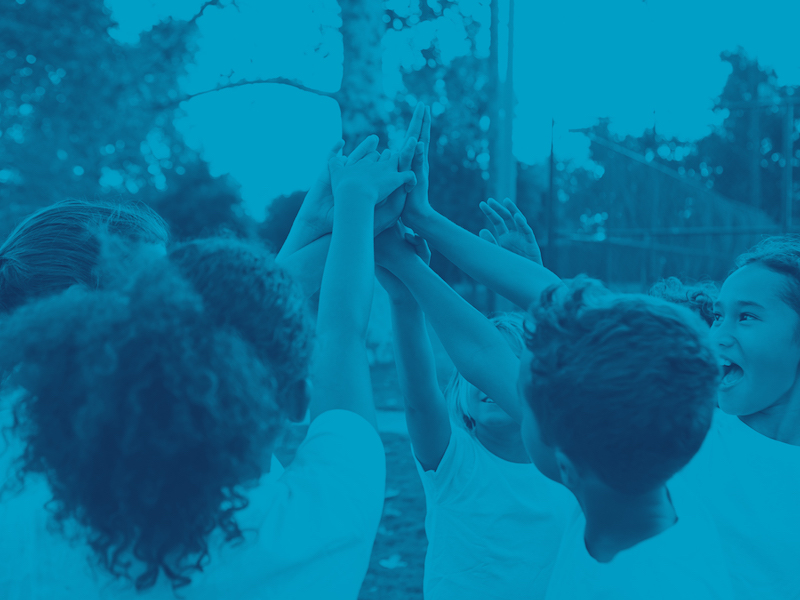 Creating Healthier Places
2016 Progress Report
If we're going to make healthy choices easy for kids and families, they have to find them everywhere they go. Whether they're at home or at school, American families will find themselves in healthier environments thanks to the work being done by PHA partners every day.
PHA works with leaders in affordable housing to design communities with good health in mind, incorporating indoor and outdoor activity space and easier access to transportation, healthcare and healthy food.
But helping families practice healthy habits at home is only one part of the challenge. Kids spend the bulk of their time outside the home – at school, in before- and after-school programming and later, on college campuses. PHA works with early childhood and out-of-school care providers, as well as colleges and universities to ensure that no matter whose care they're under, America's youth – from their earliest years all the way through young adulthood – can maintain a healthy lifestyle.
Even when they fall ill, PHA's hospital partners have got them covered by providing healthier meals for patients, family and hospital staff in healthcare facilities across the country.
Healthier Campus Initiative
Going off to college signals a time of newfound independence for young adults, who are suddenly able to make all of their own choices. The habits they form during these years – including what they eat and how much physical activity they get – can last a lifetime.
Recognizing this, PHA works with colleges and universities across the nation to create campus environments that encourage and support greater physical activity and healthier eating habits. Each college or university partner has committed to meeting at least 23 of 41 health-focused guidelines within three years. The guidelines were developed by PHA in collaboration with some of the nation's leading nutrition, physical activity and campus wellness experts. Some schools provide free boxes of healthful groceries to students and families through campus-based food pantries – an important step toward reducing food insecurity as well as improving good nutrition.
To date, the Healthier Campus Initiative includes more than 40 diverse colleges and universities across 30 states, including several historically black colleges, as well as those on tribal land. Our college partners reach more than 1.2 million students, faculty and staff, including more than 100,000 minority students and nearly 100,000 Pell grant recipients.
Active Design Verified
Our bodies are designed to move. Too often, our homes and our communities provide little opportunity or encouragement to do so safely. But studies show people who live in communities designed with health in mind are, in fact, healthier.
Recognizing this, PHA teamed up with the Center for Active Design to create Active Design Verified (ADV), a program that recruits leaders in affordable housing who make health a priority in how they build communities. ADV pioneers use architecture and urban planning to create indoor and outdoor spaces that encourage people to move. They also make it easier for residents to grow or buy healthy food within the community and provide easy access to public transportation and healthcare services.
ADV participants agree to incorporate a set of low-cost design elements in a specific percentage of their affordable housing properties over a set period of time. These include appealing, well-lit stairwells, infrastructure that supports walking and biking, gardens to work in and spaces for kids to play. Our ADV work, while new, will impact 4,650 units of housing by ensuring these elements are included.
Hospital Healthier Food Initiative
PHA partners believe the food that's served in healthcare institutions should have a positive impact on our bodies. The Hospital Healthier Food Initiative ensures that hospital patients, their families and all the people who care for them have healthful meal options that meet high standards for nutrition, labeling, marketing and food preparation.
In all, approximately 700 hospital partners (10 percent of all hospitals nationwide) have joined the initiative, from healthcare giant Kaiser Permanente to smaller systems such as El Camino Hospital in the Silicon Valley. Collectively, these partners treat more than 9 million patients annually and serve more than 32.7 million meals to patients, visitors and staff.
Early Childhood And Out-of-school Time
Early childhood is a critical time for development, as well as a time when children are developing their taste for food. Experts say exposure to a wide range of healthy foods is important at this age, along with plenty of opportunities to run and play. PHA's Early Childhood and Out-of-School Time partners prioritize healthier options and physical activity for the kids under their care.
Our out-of-school time partners reach more than 5 million children across the country, and our early childhood education partners reach 1 million children serving them more than 225 million healthier snacks and meals each year. As part of their commitments to PHA, they serve fruits and vegetables with every meal and make sure kids get at least one hour of physical activity each day. They also commit to limiting screen time for children, so that the sedentary habits that can hamper good health don't begin to take root when children could be better engaged with their peers.
All Partners
American University

Arizona State University

Binghamton University

Blue Sea Development

Boys & Girls Clubs of America

Bucknell University

Central New Mexico Community College

Clayton State University

Des Moines Area Community College

Des Moines University

El Camino Hospital

Emporia State University

Florida International University

Florida State University

Fort Lewis College

George Mason University

Georgia Institute of Technology

Grand Valley State University

Hackensack Meridian Health

Hampshire College

Homeowner's Rehab, Inc.

Howard University

KinderCare Learning Companies

Learning Care Group

Leech Lake Tribal College

Liberty University

Loyola Marymount University

Mississippi State University

Morrison Healthcare Food Services

National Recreation and Park Association

Northern Arizona University

Oakwood University

Oklahoma State University

Rochester Institute of Technology

Saint Louis University

Southern University and A&M College

St. Luke's Hospital

SUNY Cortland

Texas A&M University–Corpus Christi

The George Washington University

The Ohio State University

University of Arizona

University of California, Los Angeles

University of Houston

University of Miami

University of New England

University of New Hampshire

University of North Dakota

University of North Florida

University of Oregon

University of Pennsylvania

University of Wisconsin–Madison

Urban Ventures, LLC

Vitus Group

Washington University in St. Louis

YMCA of the USA