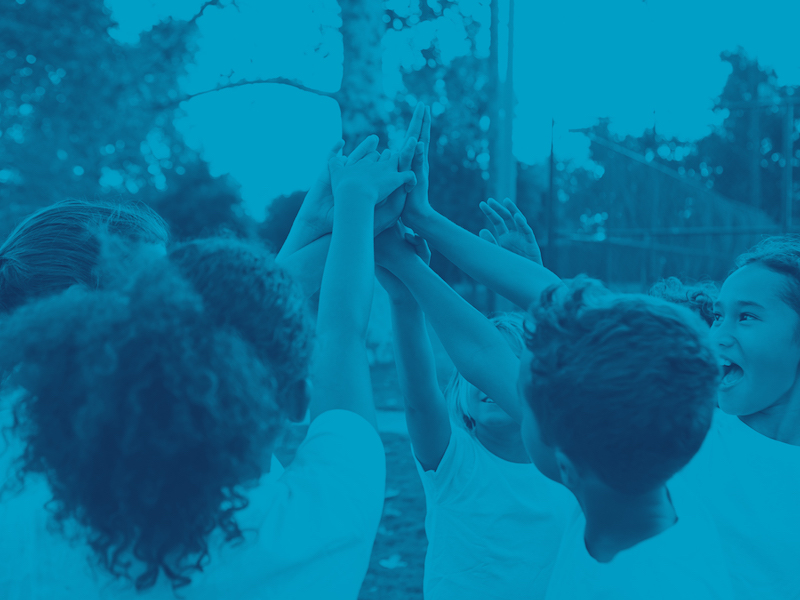 Transforming the Marketplace
2017 Progress Report
If we want families to make healthier choices, we need to make sure those choices are available – to everyone. We also need to make sure families know those choices exist.
We're approaching this problem from all angles: PHA partners create healthier food and beverage choices by reformulating products to reduce the amount
of fat, sugar, and salt on the shelves; they feature healthier choices on the menu for when families are eating away from home; and they promote consumption of healthier foods – especially fresh fruits and vegetables – through campaigns that make carrots and kale cool.
Finally, our partners make sure where people live doesn't limit the type of food they can buy. For those whose closest option might be a convenience store, combined PHA's convenience store partners have 1,800 stores across 26 states, and more than 3.8 million SNAP transactions per year, making sure even a quick-stop shop can provide families with fresh and nutritious options for hungry kids.
A big success for us last year was the mid-year introduction of our 'Good Health to Go' snack racks, in which the majority of the products featured met the PHA Healthier Eating Guidelines. Over 1,100 of our customers chose to bring in this rack and the associated products, giving healthier eating options to somewhere near a million customers per day who may not have had those type of options previously.
- John Bratta, Vice President - Marketing Core-Mark International, Inc.
Mars Food: Ben's Beginners a Recipe For Healthier Families
We, as an industry, need to think differently. Taste is certainly important, but so is health. If we don't take ownership for providing better products for consumers, then who will?
- Caroline Sherman, Vice President of Corporate Affairs Mars Food North America
When she was in 4th grade, Janie Wilson danced five days a week after school. Though she loved to dance, there was one thing about her hectic schedule that she didn't like: the fast-food dinners her family often ate because they got home so late.
"Eating fast food was slowing me down. I didn't have as much energy. It made me gain weight. I could not perform to the best of my ability like I used to," said Janie, who is now 14.
Then Janie's mom mentioned an ad she saw for a contest sponsored by UNCLE BEN'S® that encourages families to cook together. Based on research that shows children who cook with their parents eat healthier
foods and develop healthier, lifelong eating habits, the brand created the Ben's BeginnersTM Cooking Contest. UNCLE BEN'S® awards $15,000 each to five grand prize winners and $30,000 to each of the winners' schools to create healthier school cafeterias.
"Janie had expressed an interest in cooking," said her mom, Julie, who suggested that her daughter put together an entry. With just two days until deadline, Janie's initial entry was rushed. But, over the course of the next year, she and her family began cooking together more and eating out less. On her second try she was better prepared and let her school know she was entering on their behalf.
"The community was so, so supportive," said Janie, who filmed her video entry outside her elementary school
as well as in her Peabody, Massachusetts home. "There were flyers going out to all the schools in the area, telling them to vote for me. The mayor asked me to come to committee meetings to explain what I was doing. The town even put up a billboard with my face on it asking people to vote for me!"
Janie and her family prepared turkey rice chili for the contest. Her entry won a $30,000 school cafeteria makeover and a $15,000 cash prize for her family. But, what she and her mom are most proud of is how it changed the way her family lives.
"It brought my family together," said Janie, who, three years later still plans meals for her family on a weekly basis. They shop together, cook together, eat together – and even exercise together routinely, taking long walks in the neighborhood.
Because her mother and father work and she and her 11-year-old sister are both active after school, the family does most of their cooking on Sundays. Janie prefers to make large meals that can be used for leftovers all week long, such as casseroles, chili, soups and baked pastas. Every meal includes plenty of fresh vegetables.
"We're definitely better eaters now," said Julie. "Janie taught me about meal planning and the importance of grocery shopping. We make lists and think ahead. Going to the store with a list, we've reduced how much we spend on groceries. Without a list, you throw things in the cart and get home and find there's still nothing to make for dinner."
Janie no longer dances, but now plays basketball after school. "Since I eat healthy, I have so much more endurance and can stay in the game longer," she said. "I have so much more energy than before."
PepsiCo
The vending machine – once the quick go-to for soda, candy bars and bags of chips – has gotten a makeover. Thanks to PepsiCo, we're saying hello to the future: vending machines featuring breakfast bars, hummus, fruit juices, water, and other better-for-you snacks and beverages.
Hello Goodness was created to give consumers great- tasting, healthier, on-the-go snack and beverage options in machines outfitted with digital touch screens, contemporary payment methods (such as ApplePay and credit cards) and other innovative features, such as food and beverage bundle options and nutritional information.
"We conducted research that took a close look at the industry and how consumers were responding to current offerings and learned that two-thirds of consumers rarely or never used a vending machine," said Anne Fink, President, Global Foodservice at PepsiCo, Inc. "There were many reasons for this, but chief among them was that they weren't able to find better-for-you choices while on the go."
Launched in 2015, Hello Goodness now has more 
than 40,000 units, including vending machines as
well as in-store coolers and racks. PepsiCo is using Hello Goodness to expand the availability of healthier snacks and beverages to places often lacking quick and convenient access to such choices. Hello Goodness machines can be found in the workplace, at hospitals, in lodging, and on college and university campuses.
Now, they can also be found throughout the Chicago Public School system, where they'll be stocked with drinks meeting USDA and Chicago Public School nutritional guidelines, such as Aquafina and Dole 100% apple and orange juices.
PepsiCo's investment in better health is already paying off. One study of vending banks showed Hello Goodness placements lifted vending bank revenue by 59 percent. Another study showed adding a Hello Goodness machine to a vending account boosted annual revenue growth by 12 percent.
The machines are getting high marks at college, as well. Approximately one-third of PepsiCo's net revenue at the University of Utah is generated by the sale of Hello Goodness items.
"Hello Goodness harnesses the power of PepsiCo's broad food and beverage portfolio and deep knowledge of evolving consumer trends and preferences to offer today's on-the-go consumer healthier options to satisfy their needs throughout the entire day," said Fink.
"We have combined the trends of today's consumers and leveraged our design capability to develop inspiring equipment with a curated portfolio."
NACS
More than half of all Americans live within a mile of a convenience store. These are the places we stop to buy gas, snacks, a quick sandwich or a hot meal to go. There are an estimated 155,000 of them across the country, reaching about 165 million customers per day.
With help from PHA, convenience stores across America have been transforming their image as well as their inventory. Now customers who want healthier choices
– such as fruit cups, salads, yogurt and hummus – will find these items prominently featured and easily accessible in a growing number of locations.
In 2017, PHA broadened its reach to this segment of the market by adding its first-ever retail association partner: The National Association of Convenience Stores (NACS).
NACS members include retail stores and the distributors and suppliers that help them stock their shelves. NACS offers tools and resources to its members to help them increase better-for-you food and beverage choices and learn how to best market and merchandise these items to make sure the healthy choice is the convenient choice, even for the busiest of American families.
NACS works with polling and marketing firm PSB to track consumer impressions of convenience store offerings.
In 2013, NACS first asked if consumers were seeing more healthy options in stores and 11% said "yes." That percentage jumped to 20% in 2016.
Tools And Resources Available To NACS Members
Corner Store Forum
Smaller than the convenience store, but often integral to a community or neighborhood, is the corner store, or bodega – the place people drop into when they run out of milk, want a quick snack or a cold drink on a hot summer day. There are an estimated 35,000 corner stores in the United States.
NACS understands that corner stores don't have the resources of larger, chain-operated convenience stores but are just as interested in responding to the needs of the community by providing healthier choices. That's why it created an opportunity for groups representing corner stores to share ideas and best practices and meet with industry experts at the yearly NACS Show, which annually draws 25,000 attendees to 60 education sessions and a 420,000-square-foot expo. In 2018, NACS, along with PHA and fellow nonprofits the Alliance for a Healthier Generation and the Food Trust will host the group in conjunction with the annual PHA Summit.
At the 2017 Corner Store Forum, NACS offered guided tours of its expo to promote display units, open-air coolers and new types of shelving that showcase healthier foods and beverages. Participants were also introduced to PHA tools, such as the Healthier Product Calculator and Drink Up Portal.
The Corner Store Forum provides an opportunity for groups from all different sectors and locations to come together and gain different perspectives. DC Central Kitchen's Healthy Corners' team is fortunate to have met individuals and organizations across the nation who share the same mission of providing healthier food options to their corner stores, and we have been able to continue cross-sharing outside the Corner Store Forum.
- Nola Liu, Program Manager, Healthy Corners DC Central Kitchen
Healthier Product Calculator
Question: You've committed to selling healthier meals and snacks. Great! But … aside from salads and fruit cups, how do you know which snacks are the healthier ones?
Recognizing that retailers and distributors might need a little help determining which products qualify as 
the healthiest choices, NACS and PHA launched the Healthier Product Calculator, an online resource that analyzes ingredients and a product's nutrition profile to identify those items meeting PHA's Healthier Food and Beverage Criteria.
"It helps retailers determine what to stock," said Jeff Lenard, vice president, strategic industry initiatives 
for NACS. "In our industry, 63 percent of all stores are one-store operators. It's unlikely they have a certified nutritionist or access to one. But in a sense, they now do. The calculator allows us to help them do a store set based on dietary guidelines so that they know how to provide customers with the healthiest options."
NACS recently began promoting the calculator to its 4,000-plus retail and supplier company members, some of which also have individual commitments
to PHA to improve their product offerings. One such member, S. Abraham & Sons (SAS), a leading wholesale distributor with 4,000 retail stores throughout the Midwest, has not only begun using the calculator, it's asking its vendors to do so as well.
"We explained our commitment to PHA and our desire to identify items in their portfolios that qualify as healthy choices," said Marie Wise, category manager for SAS. From that vendor feedback and their own use of the calculator, SAS has developed an order guide of more than 200 items – including everything from fresh fruit and granola bars to sugar-free mints. They're now putting together a three-foot end cap planogram branded as "Whole Lot Better," showcasing only items that meet PHA's criteria for healthier products.
I really appreciated how NACS updated us on recent changes to the Supplemental Nutrition Assistance Program (SNAP) and constantly kept us up to date. Their team also gave us really good tips on ways to support store owners, such as advice on how to help them apply to become SNAP- authorized stores.
-Nola Liu, program manager, Healthy Corners/DC Central Kitchen
Drink Up Portal
The Drink Up campaign encourages people to drink more water, more often. Convenience stores are a great place to spread that message. After all, 83 percent of all items purchased at a convenience store are for immediate consumption, most often beverages.
To help retailers spread the word on water, PHA 
and NACS created marketing signage that can be downloaded from an online portal, printed by retailers and placed on or near beverage cooler doors, with messages about the importance of hydrating with H2O.
NACS doesn't just encourage its members to use the portal, it's seen first-hand how effective these stickers can be, said Carolyn Schnare, NACS Director, Strategic Initiatives. Water dispensers and beverage coolers at the NACS office prominently display Drink Up floor clings and stickers encouraging NACS staff and visitors to drink more water.
"People are taking notice and changing their behavior," said Schnare.
FNV
When we all put our heads together, we can accomplish great things.
Take Wisconsin's FNV/SNAP-Ed campaign. The goal was to market fresh fruits and vegetables to Millennials through an FNV social marketing campaign that targeted low-income communities. The program was piloted in three cities – Green Bay, Eau Claire and La Crosse – before expanding to Milwaukee and Madison.
Changing consumer attitudes and behaviors, is tough work. To get the job done, PHA partnered with FoodWIse (a SNAP-Ed-funded program), through the University of Wisconsin - Extension, HealthTIDE, the Wisconsin Department of Health Services, and a network of partners across Wisconsin creating change around physical activity and healthy eating. But the partnerships didn't stop there: The campaign reached out to a wide range of stakeholders, including representatives from state and local public health and community-based organizations and local retailers.
"We have been really intentional in Wisconsin about
 the idea of collective impact – that organizations and individuals working together across sectors can change
a complex or 'wicked problem' in society. It can be really complicated with many partnership layers, but it was 
an important part of our work," said Erin Aagesen, FNV Campaign Coordinator for FoodWIse. "A lot of voices came to the table to determine how we would implement FNV in alignment with existing programs and activities."
Together, the group selected messages with broad appeal. For example, the team tapped into state pride for the Green Bay Packers. The message, wrapped around buses and plastered on billboards and social media, read: Die Hard Fans Eat Green and Gold, and featured pictures of broccoli spears and yellow bell peppers.
"It was a unifying message for Wisconsin," said Aagesen. The billboards were placed near retailers in low-income census tracts. Other ads targeted farmers' markets in Milwaukee neighborhoods, where vendors accept SNAP benefits and in some cases, even double their value. One ad, featuring bok choy, cilantro and kale, reads: At the market, a little bit of green goes a long way.
The campaign also used digital, social and grocery retail ads in the pilot cities. While not conclusive, preliminary survey results suggest they may be nudging attitudes and behavior: respondents who recalled seeing FNV 
ads reported more positive attitudes towards fruits and vegetables than those who did not recall the messages. Those in the recall group also reported eating more fruits and vegetables, more often.
What's more, working collaboratively resulted in more confidence among partners about their ability to meet goals by sharing ideas and resources. The perceived strength of working relationships increased an average
 of 16 percent among partners, while 75 percent of participants said having a shared mission and goals contributed to the success of the campaign. "The process of implementing FNV has set the stage for future collaboration," said Aagesen.
The Milwaukee Farmers' Market Coalition has been promoting farmers' markets as a source of fresh fruits and vegetables. People can use their SNAP benefits to purchase healthier items right in their neighborhoods. FNV was an opportunity to spotlight these opportunities in a fun and novel way.
- Francie Dekker, FoodWIse Nutrition Education Program Administrator in Milwaukee
All Partners
Aloha Petroleum

Atlanta Community Food Bank

Capital Area Food Bank

Core-Mark

Cumberland Farms

Des Moines Area Religious Council

enmarket

ESSTAR

Feeding America

Harold Levinson Associates

Hyatt Hotels

Kwik Trip

MARS Food US

McLane Company Inc.

NACS

National Confectioners Association

Nutri Ventures

One Medical Group

PepsiCo

Produce Marketing Association

Ricker Oil Company

S. Abraham & Sons

San Antonio Food Bank

Sesame Workshop / PMA

Sodexo

The Mushroom Council

Trinity Health

Twice Daily

Vintners Inc.

Westin