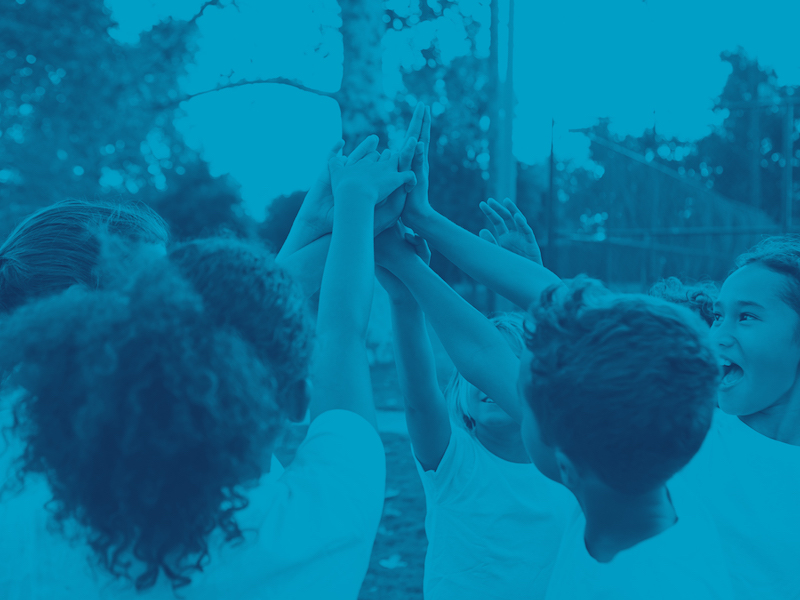 Increasing Physical Activity
2017 Progress Report
Kids have amazing energy. But without safe places to play or ample opportunities for sports and recreation, all that energy can be stifled.
PHA partners are committed to making sure America's children have plenty of chances to get up and move throughout the day, whether it's through competitive sporting events, after-school clubs or classroom activity breaks that get them out of their chairs and away from their desks, keeping their brains – and their bodies – working properly.
Our partners are expanding the number of local youth sports leagues, training quality coaches to motivate kids to move, providing grants for after-school physical activity programs, supplying much-needed equipment to keep school sports programs viable in underserved communities, and hosting school and community events that encourage families to get and stay active – together.
DICK'S Sporting Goods
According to the U.S. Department of Education, student athletes are four times more likely to attend college. They're absent half as much as kids who aren't involved in sports. And they have an 11 percent higher graduation rate than non-athletes.
Sports matter, and because DICK'S Sporting Goods understands why, DICK'S and The DICK'S Sporting Goods Foundation created the Sports Matter program to support youth athletic programs in communities across the country.
As part of its commitment to PHA, The DICK's Sporting Goods Foundation has pledged to expand its Sports Matter initiative, which raises awareness of the issues surrounding youth sport and provides matching funds to its partners.
Since 2014, DICK'S and The DICK's Sporting Goods Foundation have committed $50 million to support youth athletic programs, including donations to sports teams across the country. Support ranges from grants for a fencing program for kids in neighborhoods such as West Harlem, New York, and Newark, New Jersey, to producing a documentary on the nine Mohawk girls on the Salmon River Lacrosse team, who fought cultural opposition and state budget cuts to keep playing a game they considered sacred. The sports documentary premiered at the Tribeca/ESPN Film Festival and was broadcast live on ABC.
In partnership with DonorsChoose.org, Sports Matter also helped to revitalize sports programs that suffered from devastation caused by Hurricanes Harvey and Irma. DICK's Sporting Goods Foundation and the DICK'S Foundation donated $2 million to rebuild and refurbish youth sports programs and facilities across the Gulf Coast, Florida and other states impacted by the storms. The commitment included a $1 million Sports Matter relief fund on DonorsChoose.org providing grants to sports programs at eligible schools.
The grants allowed kids at Hartman Middle School
 in Houston, Texas, most of whom come from lower socioeconomic neighborhoods, to train and condition with new workout equipment and basketballs, rest on padded stadium seats, and haul their athletic gear to school in duffel bags instead of grocery bags.
For elementary school students in an after-school running club in Naples, Florida, the grants provided equipment to help them track their progress and performance.
"The kids are back running and feeling better and are more focused in class," wrote their coach, Mrs. Yusuf, in a thank you letter to DICK'S.
"The hurricane set us back but the kindness of DICK'S Sporting Goods and others helped us to get these kids running again."
The hurricane relief fund benefited 142,000 student athletes in Texas and Florida at 238 schools.
All told, through DonorsChoose.org, DICK's Sporting Goods Foundation/Sports Matter has funded over 6,000 projects benefiting more than 584,000 student athletes nationwide. Cumulatively, DICK'S and the DICK'S Sporting Goods Foundation have donated millions of dollars to local communities throughout the U.S.
Blue Gogi
We all know that today's kids love video games, and that they can be highly motivated by them. We also know that kids need to get up and move to stay healthy.
So what if we could combine the two? Could video games – combined with exercise – improve focus, concentration, and memory? What other health benefits could that magical combination produce?
Research funded as part of Blue Goji's commitment to PHA will soon find out. Coleman Fung, founder of Blue Goji, has created a foundation that provided a $2 million grant to the University of California, Berkeley, for the development of the Fung Fellowship for Wellness and Technology Innovations, an undergraduate academic curriculum jointly supported by the School of Public Health, College of Engineering and Blue Goji.
The two-year Fellowship program will allow college students to conduct research at three elementary and middle schools in underserved communities in California, exploring the impact of combining stationary bike exercise with 2D and VR (Virtual Reality) video games. Blue Goji provides the technology, equipment, and 
game while the Fellows collaborate with teachers on the program design.
We have developed a really unique ability, the ability to work with people with different skill sets to make things that really help people. Ten years down the line, I see us doing this at larger and larger scales. Still collaborating with each other, still making a difference.
- Anna Cardenas, Fung Fellow/Blue Goji
Students from the second grade through middle school will ride bikes and play the video games simultaneously during academic breaks, said Fung. They'll begin on the 2D games, then earn time on the VR games through positive behaviors.
We want to see if we can use the program as further incentive to help kids develop better behavior and focus.
The gamified exercise will also help the schools satisfy a 90-minute weekly physical activity requirement for students, he said – a requirement schools are having a tough time meeting due to budget constraints.
What's more, the program allows many Fung Fellows
– who also come from underserved communities – to make a difference in the lives of kids like themselves, said Fung. "These are first-generation college kids,"
he said. "I wanted them to be able to help their own communities by studying some of the challenges these younger kids are facing."
Fung hopes the research will also help answer whether the added attention to these students generate other positive long-term results in their academic performance.
"It's my way of promoting the health and wellness of kids in these communities," he said. "It's a long-term investment on my part."
Active Schools
To stay healthy, kids need to move. Research shows that staying active not only helps their bodies, it contributes to increased school attendance, improved classroom behavior, better grades, and increased test scores.
Active Schools was created to ensure that at least 60 minutes a day of physical education and before, during and after school physical activity is the norm in K-12 schools throughout the United States. It was launched under the Obama administration as an outgrowth of the White House Task Force on Childhood Obesity and played a key role in Former First Lady Michelle Obama's Let's Move! platform to expand the number of opportunities kids had to get up and move before, during and after school.
Since its inception, Active Schools has enrolled over 35,000 individuals ("champions") associated with 23,000 schools that serve more than 13 million children in all 50 states and the District of Columbia. Active Schools is powered by over 90 partner organizations from both the nonprofit and for-profit sectors.
But Active Schools isn't just for kids – in 2017, it brought parents into the picture with the first annual Take Your Parent to PE Week, held September 25-29 in schools across the country. Parents were invited to learn first- hand what their kids were doing in physical education by literally jumping in with them during class. The program hopes to encourage parents to play a more active role in making sure physical activity becomes an integral part of family life.
"Our first ever Take Your Parent to PE Week exceeded our expectations. But that's not surprising as it brought together two forces of nature – physical education teachers and parents – both of whom want the best for their kids!
- Charlene Burgeson, Active Schools Executive Director
"Too many parents don't know much about physical education as an instructional class," said Burgeson.
"We want them to experience it firsthand and become more involved in their child's physical education throughout the year. We encourage them to ask their child questions about what they did in class, practice those skills at home, and volunteer to help with special events."
Active Schools also saw the addition of its first three Active Schools Ambassadors, welcoming seven-
time Olympic medalist Shannon Miller, Stanfield Elementary School (Arizona) principal Chris Lineberry and founding/former principal of Red Hawk Elementary School (Colorado) Cyrus Weinberger to the team. The ambassadors support the mission of Active Schools by communicating with parents, teachers, principals, policy makers, and the public about the benefits of physical education and physical activity for kids' physical, social- emotional health, and academic performance.
"Active Schools need role models who exemplify the belief that active kids do better," said Burgeson.
"Be it bringing awareness to both the benefits and
joy of movement, integrating activity into academics
or making before and after-school physical activity programs a priority, our ambassadors are practicing what we preach and helping us bring our vision of active, healthy and happy kids to life."
With the change in administration, in 2017 Active Schools revamped its strategic plan to function independently of the White House platform on which 
it was founded. As part of that process, it has created 
a new vision – in partnership with its partners and stakeholders – "to reimagine school environments to provide opportunities for academic, social, emotional, and physical learning so that all children have the ability, confidence, and desire to lead active, healthy lives.
Moving forward, Active Schools and its partners will implement strategies to bring this vision to life, ensuring that whether they're at home or at school, America's children have the opportunities, encouragement, and support they need to keep moving toward better health.
Having kettle balls heavy enough to challenge our strongest athletes really makes students feel like they are getting the program they need and deserve to be the best athlete and human they can be.
- Kyle Stallard, Physical Education Teacher, YES Prep Brays Oaks, Houston, TX
All Partners
Blue Goji

DICK's Sporting Goods

FirstBIKE

Mercedes-Benz USA

New York Road Runners

NIKE, Inc.

The North Face

United States Olympic Committee

United States Tennis Association