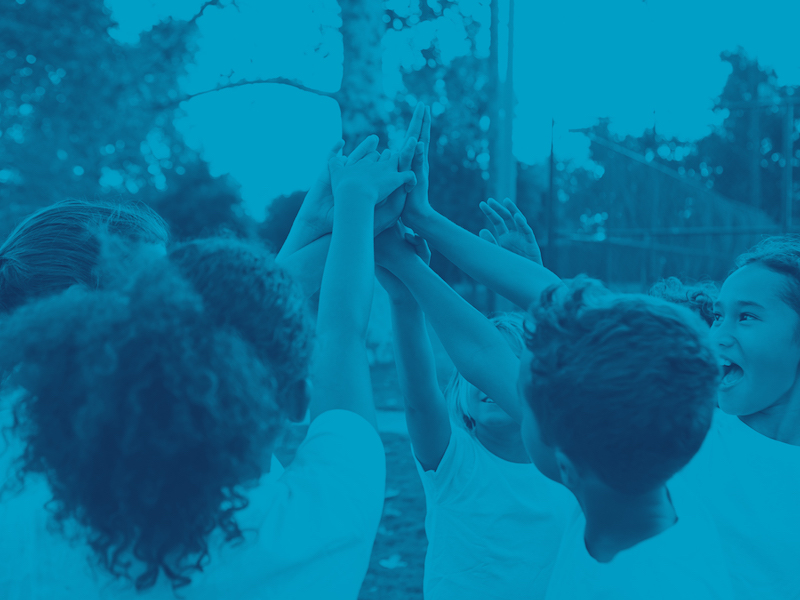 Creating Healthier Places
2017 Progress Report
If we truly want kids to be healthier, we have to make sure the environments in which families live, work, and play both allow and encourage healthier choices. PHA's partners strive to make the healthy choice the easy choice for families from the moment they wake up in the morning until the time they go to bed each night.
We work with affordable housing developers to ensure that communities are designed to promote healthy living, incorporating features such as gardens and bike racks, exercise equipment and well-lit stairways and walking paths, along with easy access to healthcare and transportation.
Our food bank partners ensure that even the most disadvantaged families can serve fresh fruit to their children before they leave for school in the morning and put fresh vegetables on their dinner plates at night.
While they're out during the day, our early learning and child-care partners promise to feed kids healthier meals and snacks and give them plenty of opportunities 
to run and play. PHA partners provide after-school programming that gets kids moving when class is over so their brains and bodies stay healthy. And when kids get older, our Healthier Campus Initiative partners make sure they're continuing to build healthier habits during their formative young adult years away from home.
From sunrise to sunset, at home or at school, our partners are creating a world that encourages kids to grow up at a healthy weight.
Healthier Campus Initiative
Too often, college students develop poor habits that can set them on a course to a lifetime of poor health, leading to chronic disease and higher healthcare costs for individuals as well as the nation. Creating healthier lifestyles in young adulthood – by teaching students about nutrition, providing and showing them how to cook healthier meals and promoting physical activity – can help to reverse this trend.
PHA's Healthier Campus Initiative (HCI) reached more than one million students, faculty and staff in 2017, as 21 colleges and universities neared implementation of their commitments to promote healthier eating and more active living. Each school worked to meet 23 of 41 guidelines, such as increasing healthier menu options, providing access to free drinking water and offering free personal nutrition counseling and fitness classes for students.
The colleges in PHA's Healthier Campus Initiative
 aren't simply meeting a checklist of commitments; they are transforming their campus environments to make it easier for students, faculty, and staff to live healthier lives. From New York to California, Florida to New Hampshire, North Dakota to Arizona and states in between, our HCI partners are helping to make wellness an integral part of the college experience.
The University of California, Los Angeles (UCLA), where wellness has long been a priority, was one of HCI's earliest partners and an active participant in helping develop criteria for better campus eating.
UCLA's commitment to PHA accelerated work it was already doing through the Semel Healthy Campus Initiative to improve campus dining options and helped forge a partnership between its undergraduate dining group, the student association that oversees food concessions, the campus dietitian and campus chef, said Wendelin Slusser, Associate Vice President of UCLA's Healthy Campus Initiative and a clinical professor in the UCLA Schools of Medicine and Public Health.
"They normally don't work together," she said. "This was a nice cross-campus partnership that was enhanced by PHA. It built on a foundation that we'd been building for a long period of time," she said.
From those partnerships grew numerous improvements to campus health. Some were simply best practices, such as relocating trays in the dining halls to discourage their use, so that students would be less likely to take more food than they wanted or needed, reducing calories as well as food waste. Other changes were more targeted, such as revamping catering menus to remove white bread and sugary beverages and add healthier choices, such as fruit, yogurt, and whole grain foods.
One of the most successful and wide-reaching changes has been the launch of a bike sharing program, similar to those popping up in cities nationwide, which allows students to hop on a bike at one end of campus and leave it on the other end for someone else to use. The program is also being connected to bike sharing systems in nearby cities so that faculty, students, and staff can use it to commute to campus along a bike path the university is also helping to develop.
More than 500 staff, students and faculty signed up 
for the program in its first month. Just as many were using the system on a pay-as-you-go basis. Collectively, users took more than 7,000 trips, cycling nearly 6,000 miles and burning more than 222,000 calories in the program's first two months.
Because so many students and faculty began biking across campus, the university lowered the campus speed limit for cars from 35 mph to 20 mph. Then they added more bike lanes. "It is now safer for pedestrians, cyclists, and drivers on campus," said Slusser.
The bike program also helped UCLA with another of its goals: reducing its carbon footprint. "Our goal is to be carbon neutral by 2025," said Slusser, "so we need to increase active transport. We found the message of better personal health is a much better carrot for some people than the message of a healthy environment."
Georgia Tech and Sodexo
Eating healthier sounds like a great idea. But it's not always as simple as it sounds, especially for busy college students looking to grab a quick bite to eat. It's tempting to choose the familiar comfort of a cheeseburger and fries over an unfamiliar dish.
That's why Georgia Tech, in conjunction with PHA partner Sodexo, increased the amount of time it spends introducing students to new tastes and teaching them about how to make healthier choices. It's called "tabling," and Amber Johnson used to do it for students once a month, handing out samples of healthy dishes and information on Sodexo's Mindful program, which offers tasty, healthier meals and snacks.
Now Johnson, Nutritionist for Health Initiatives and Dining Services at Georgia Tech, sets up her table 
once a week at the campus farmers' market and 
in dining centers, during meal times. This nutrition campaign, Smart & Happy Meals, connects fresh and healthy dining choices to the school's health and well- being focus on building a smart, happy, and thriving community. She recently handed out samples of citrus-glazed tilapia with sautéed squash and zucchini and roasted sweet potatoes. For those looking for a vegetarian option, she offered a sandwich of tomatoes, bell peppers, spinach and onions with Swiss cheese on whole grain bread.
"When I talk to students who are eating on campus, I mention the Mindful menu, what that looks like and what that means," said Johnson. "I explain the logos and icons – that when you see this icon it's going to automatically be a healthy item. Tabling presents
a really unique opportunity for students to come up casually and ask questions, such as where they can find appropriate food items for eating healthier."
Handing out samples of what's being served that day makes finding such foods even easier, she said. "We could point them right to it."
Mindful meals contain less than 600 calories, filling the plate with more servings of vegetables, fruits, whole grains and less fat than other meals. They are lower
in sodium, have no trans fat and contain less than 10 percent of calories from saturated fats.
Georgia Tech serves Mindful meals all week long, but once a week – on Mindful Mondays – it ramps up its healthy offerings at one of its community restaurants, on a rotating basis. On that day, 75 percent of all meals are Mindful, said Jonathan Elwell, General Manager of Dining Services.
Coming together, these two PHA partners and the Mindful meals program is gaining in popularity and helping students improve their health, said Johnson, who remembers a marketing intern who lost a substantial amount of weight after switching to Mindful meals. "We are not only seeing the satisfaction with the food they are eating and the taste of the food, we are also seeing some really great health outcomes as well."
Bright Horizons
At what age can a child begin learning to cook?
Just about any age, if you ask the staff at Bright Horizons Bellevue/Spring District in Seattle, where no child is considered too young to begin learning about healthier foods and how to prepare them. As part of its commitment to PHA and to seeing children grow up healthier, the preschool and early education center recently held a cooking workshop for families. The youngest participant? Just 19 months old.
"He was in his mother's arms stirring the pot," said Center Chef Boni Day. "Yes, your kids can learn to cook even though they are two, three or four years old. All the children were engaged in this activity."
The workshop brought family members of all ages together in the kitchen, where they spent their Saturday making chicken meatball sandwiches and zucchini brownies, while learning about math (by measuring and counting ingredients) and how cooking together can help kids adopt healthier attitudes about eating their vegetables. "We talked about the benefit of children cooking in the kitchen with their parents," said Center Director Ali Rock. "We talked about taking kids to the grocery store and letting them pick out the vegetables that look fun to them, then cooking together. When you do that, they're more likely to eat them."
The cooking workshop drew 35 children and their family members, including siblings, parents and grandparents from Bright Horizons as well as the community at large, said Rock. Each child was given an apron to take home to encourage them to continue to enjoy spending time in the kitchen with family.
Educating children about healthier foods is nothing new to Bright Horizons and its more than 750 centers nationwide.
"At Bright Horizons, we practice family style dining in all of our centers," said Rock. "Adults and children talk and eat together at tables they set with place mats and full place settings. Children are serving themselves. It's a great way to explore different tastes and flavors and learn about the different kinds of vegetables, as well as portion control."
While passing out bowls and plates and silverware, pouring themselves drinks from child-sized pitchers and scooping food onto their own plates, kids are also being engaged in conversation about the food they're eating, said Rock.
"We don't try to sneak the vegetables in," said Day. Instead, she makes them interesting. For example, "our preschool girls are obsessed with purple," she said. "Carrots come in all different colors – red, orange, white … and purple. So I made them purple carrots. They ate all their carrots that day."
Hospital Healthier Food Initiative
Hospitals are institutions focused upon restoring health, so the food they serve should likewise be good for our bodies.
PHA partners with approximately 700 hospitals across the country – more than 10 percent of the industry – to dramatically improve hospital nutrition for patients, their families and the healthcare providers and staff who care for them.
Partners in our Hospital Healthier Food Initiative promise to make a series of changes, including creating wellness meals for children and adults; displaying only health-promoting food and beverage offerings; greatly increasing the percentage of healthier meal offerings on patient and cafeteria menus to include foods lower in calories, sodium and fat and higher in whole grains, lean meats, fruits and vegetables; and removing all fryers and deep-fat fried foods from the hospital.
Meeting healthier nutrition standards for the food they serve enables hospitals to serve as model institutions for the community, promoting good health in all that they do.
El Camino Hospital
Walk into the cafeteria at El Camino Hospital on any given day and the least expensive meal on the menu will also be one of the healthiest. It might even be the tastiest.
It could be potato-crusted snapper with wild rice and fresh vegetables. Or Mongolian beef with soba noodles and stir-fried vegetables. Or grilled salmon and fresh herbs.
"For every meal time, we offer a cancer-healthy meal, which is the healthiest choice of the day and is less expensive than all of the other options in the cafeteria to encourage people to make that choice," said El Camino's Wellness Coordinator, Anna Norman. "Our cafeteria staff here works hard to make those healthy options exciting and appealing."
Creating and promoting healthier meals for its inpatients, employees, physicians, and volunteers is part of El Camino's commitment to PHA. But the commitment to making the healthy choice the easy choice is really a commitment to the community it serves, said Norman.
"Our nurses and support staff have very high stress jobs and that can lead to unhealthy habits," she said. "That's a problem in hospitals all around the country. Being able to provide healthy foods, fresh foods, that meet everybody's dietary needs is where our focus is. We believe that you need to put your own oxygen mask on first to take care of yourself, so that you can better take care of the patients."
El Camino is so dedicated to providing healthier choices, you'd be hard pressed to find less nourishing options in the hospital. Gone are sugary beverages
– not just from the cafeteria but also from all of the vending machines. In their place are naturally-flavored waters, 100 percent fruit juices, tea, non-fat dairy products and diet soft drinks.
Gone are the traditional snack foods and chips, as well. "Now, across the board we only have baked snack options that fall within a certain calorie range," said Norman.
"We bring a lot of healthy options to our staff and patients," she said. Even traditional sweet treats have been replaced with items such as chocolate-covered nuts. "People were resistant to it at first, but now it's having a pretty positive impact."
El Camino also encourages its staff to get away from work on breaks and do something physically active, such as walk. "Our wellness program is very strong here," she said. "We have a walking club twice a week at a park that's across the street. We also have hospital- wide walking challenges each quarter."
To encourage participation, the hospital's Wellness on Wheels cart visits nursing staff at their stations, giving out water bottles and healthy snacks, such as fruit and nut bars. "We go to the nursing units, since they can't come to us," said Norman. "We show them that we care and try to keep wellness in the forefront of their minds."
All Partners
American University

Arizona State University

Binghamton University

Blue Sea Development

Boys & Girls Clubs of America

Bright Horizons Family Solutions

Bucknell University

Central New Mexico Community College

Clayton State University

Des Moines Area Community College

Des Moines University

El Camino Hospital

Emporia State University

Florida International University

Florida State University

Fort Lewis College

George Mason University

Georgia Institute of Technology

Grand Valley State University

Hampshire College

Homeowner's Rehab, Inc.

Howard University

Learning Care Group

Leech Lake Tribal College

Liberty University

Loyola Marymount University

Mississippi State University

Morrison Healthcare Food Services

National Recreation and Park Association

Northern Arizona University

Oakwood University

Oklahoma State University

Rochester Institute of Technology

Saint Louis University

SUNY Cortland

Texas A&M University–Corpus Christi

The George Washington University

The Ohio State University

Tougaloo College

University of Arizona

University of California, Davis

University of California, Los Angeles

University of Houston

University of Miami

University of New Hampshire

University of North Dakota

University of North Florida

University of Oregon

University of Pennsylvania

University of Wisconsin–Madison

Urban Ventures, LLC

Vitus Group

Washington University in St. Louis